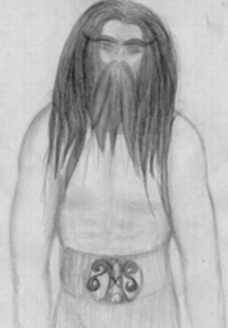 .....without uttering a word, his fists clenched, the brave father made his way to the damned place.
This is his original narrative when he came back :
" I have to say first that as soon as I entered the house, a black cat spitted at me. This confirmed what I already thought. I told you that this guy was a sorcerer! I'm sure he is with the devil ! Priest, you never saw him at the church, have you ? Never a confession! and let me remind you, guys, that he has not even been to the mayor's wedding !
_ Stop speaking your mind ! Tell us what you saw !
_ Well, the door was not closed so I decided to get in. I prayed God for nothing to happen to me, and thank Him, he granted me that ! All the surroundings were dark, it was such a mess ! This is how I can definitely say that not only he is not married, but he does not even have an affair. No woman would leave a house in such a state. Well, all was dark and dusty, things were hanging from the ceiling : ropes, iron tools that you never ever saw before (I am sure they were coined by the devil), panels which played a hellish music... I gathered all the courage God gave me, and entered a second room, which was even more frightening. You will never believe what I saw !
_ What ! What ?
_ On a table there were hundreds of queer things, boiling and smoking. Weird lights emanated from these things. And there was a weird smell as well. There, the cat mauled.....