Elena Methodieva Stoynova is a professional musician and a musicologist researching ancient Greek music in its Thracian environment (today's North Eastern Greece and Balkan region). Her research is mainly focused on the ancient musical instruments used in the Balkans, the islands of the Aegean Sea, and in Asia Minor. In 1998 she defended a thesis with the subject:"Ancient guitar: Theoretical investigation, Attempt to make a restoration, Musical performance" at the Institute of History of Art, Bulgarian Academy of Science.
The instrument she constructed (picture on the right) as part of this research project has been used in several concerts in Germany. Her playing approach is based on the use of plectrum as a mobile bridge held with the right hand and sliding upwards on the strings , above the level of the left hand, which positioned behind the resonator box is pulling the strings.
Since pictorial evidence from Greek vases is not adequate for establishing a clear idea of the exact function of the plectrum in the ancient instrumental techniques, we may assume that this approach might not be far from how a cithara was originally played, considering that there is at least one piece of pictorial evidence supporting this assumption (a depiction of a muse holding the plectrum with the right hand placed above the level of the left hand).
Elena Stoynova has also created two instruments of the Lyra type. Here is the picture of one of them.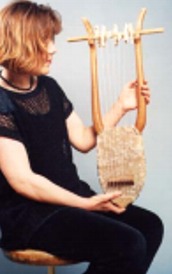 ....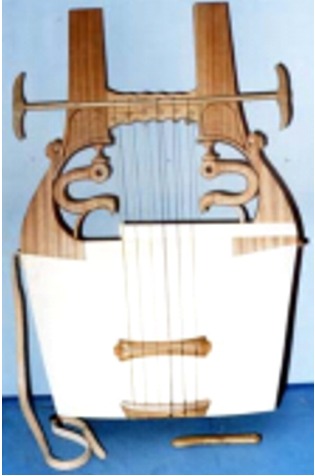 ....
Audio samples of cithara performance
Here are some sound clips from one of Elena's concerts in Germany (Bonn, October 2004, Exhibition of Thracian treasures)
Invocation of Calliope and Apollo
Extant ancient Greek hymn by Mesomedes, 1st c. AD
(See also a vocal version of this hymn by another researcher).
Beethoven "An die Freude" ("Ode to Joy")
Related links:
Reconstruction of ancient citharas and lyras by another researcher:
replica of an ancient Cithara, by Ioannidis Nikolaos
replica of an ancient Lyra, by Ioannidis Nikolaos
For more information on the various types of ancient guitars visit the page ANCIENT GREEK INSTRUMENTS