Homer's Iliad-audio and original Greek text
An Approach to the Original Singing of Homeric epics

by Ioannidis Nikolaos
Ioannidis N. is a composer, musicologist, multi-instrumentalist performer, media theorist, and digital media creative producer (with formal qualifications in Music, Musicology, Media Studies, and Digital Media Studies), who is researching ancient Greek music and its relationship with all musical cultures that have been subject to the classical Greek cultural influence.
Prooimion of Iliad
Original Greek text
transcribed by Ioannidis Nikolaos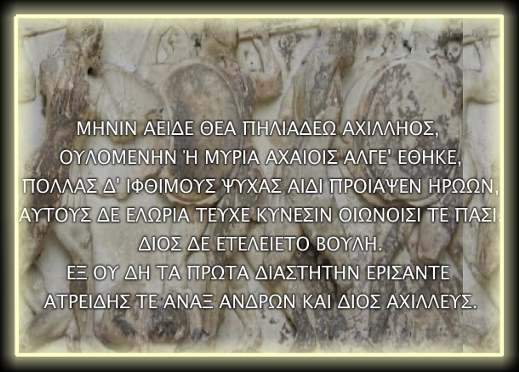 English translation

by Ioannidis Nikolaos

S

ing, O goddess,
the perilous wrath of Peleus' son Achilles,
that brought countless ills upon the Achaeans
and many brave souls sent to Hades,
and many heroes yielded a prey
to dogs and vultures,
for so was Zeus' will fulfilled.
Start from the day on which (Agamemnon)
the son of Atreus, king of men, and great Achilles
first fell out with one another.
.
Download a free mp3 sample of this song or
for a small fee
Downloading of this work is permitted only for personal, non commercial use. To use it in business establishments, academic institutions, or other organizations you must obtain a license from the administrator of this copyright Homo Ecumenicus Publishing
Contents of CD Album:
Anacreon: My lyre sings only songs of love
Simonides: Danae and Perseus
Alcman: Bucolic
Simonides: There is a saying about virtue
Tyrtaeus: Spartan march
Homer: Iliad - Sing oh goddess the perilous wrath of Achilles
Archilochos: Oh soul
Orphic hymn: In praise of Justice
Sappho: Ode to Aphrodite
Alcaeus: Winter
Mimnermos: Short-lived is treasured youth
Homer: Odyssey - Calypso and Ulysses
Hesiod: Rough is the road to happiness
Bacchylides: Great gifts, peace brings to mortals
Solon: Eunomia
LINKS TO OTHER WORKS BY IOANNIDIS
A list of all IOANNIDIS' works (musical works, lyrics, essays, translations of classical texts) is available at his WORKS page.
ESSAYS on music and media
MP3 files of his musical works are available for downloading at the Ioannidis Mp3 page
Works of interest to classicists and composers
The Music of Ancient Greeks an approach to the original singing of the Homeric epics and the lyrical poetry of the 8th-5th century B.C.
MUSIC and RELIGION (extant ancient Greek religious songs, Byzantine chant, Gregorian chant, Quranic chant)
Oedipus Rex English opera. Audio excerpt of this work is available online in mp3 format. Also available is the complete Greek text of Sophocles' tragedy "Oedipus the king".
Works of interest to poets and lyricists Ancient Greek epic and lyrical poems translated into English by Ioannidis (The original Greek texts are also available on the same page)
LYRICS (to songs from the albums Mass insanity , BE A MASTER OF YOUR FATE! , AREN'T YOU FED UP? ) dealing with the dominant political, social, and ethical issues of our time: the erosion of the nation state, globalization, terrorism, the moral and cultural decadence of modern society.
Works of interest to music performers
Instrumental performance:12-string Guitar Works (12 string classical guitar), Mass insanity (electric guitar, fretless guitar), The Music of Ancient Greeks (ancient Greek instruments -ancient kithara, aulos, ethnic percussion).
Vocal performance: MUSIC and RELIGION (including some tracks with performance of ancient Greek instruments)
Visit also the page: ANCIENT GREEK INSTRUMENTS with information about ancient stringed instruments and replicas of some of them

Purchasing information

This song and all other works by this composer are available to download at the DOWNLOADS page

© Copyright

1999

-

Homo Ecumenicus

| All Rights Reserved.

Reproduction or use in any manner of editorial, pictorial, audio-visual, or other content from this site is prohibited without express written permission from Homo Ecumenicus. To obtain a license for commercial use of files on this site (audio files, mid files, texts, essays, articles, video clips, animations etc.) send email to